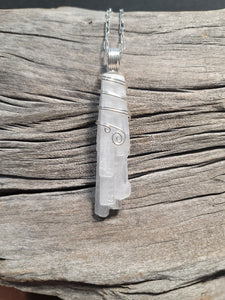 Selenite wrapped in Sterling Silver. On a 30 inch Silver Chain.
Selenite is a variety of the gypsum mineral.
It also comes in varieties known as desert rose, satin spar and gypsum flower. Selenite is formed from calcium sulfate dihydrate and is a monoclinic
crystal
. It comes in pale shades of pearly white with a clay like texture. Selenite has a meaning of clarity and consciousness.